What are the little things in life that bring you the most joy?
Can I tell you a little, tiny story, oh please?
Animals often make me laugh, especially this one. I am the aunt to this adorable dog, Rex. Full blown German Shepherd and damn proud of it. Here's the funny thing: He has a favorite TV show. Every Saturday he watches a show called Lucky Dog. He LOVES it. He can barely contain himself and his excitement. It is a glorious day when Lucky Dog is on!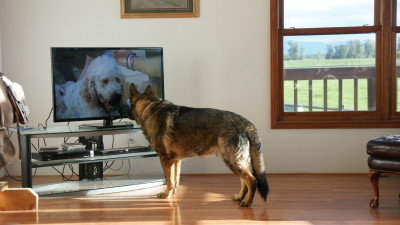 Sometimes he tries to scratch the TV screen so he, too, can play with the dogs on the show. He also runs around the back of the TV to FIND them, as if they're hiding.
He reminds me, once again, that it's the little things we love to do in life that bring the most joy. For me, it's books, gardening, the beach. For Rex, it's Lucky Dog.
What is it for you?