Thanks, USA Today and Joyce Lamb!  This is pretty darn exciting for me! I shall now go out and celebrate with a piece of chocolate cake. It is as good of an excuse as any!
— Cathy
We're talking 'The Good Lord Bird' and 'what ifs?'
Today's featured authors: Cathy Lamb (no relation to Joyce that we know of!), author of What I Remember Most, and Lecia Cornwall, author ofWhat a Lady Most Desires. They're talking keeper books and what helped inspire their writing.
Cathy Lamb, author of What I Remember Most
Three books on my keeper shelves:
Now that is a mind-boggling question. Limit my favorites to three? Is that even fair, Joyce?
All right. If I must. But I'll break the rules and switch it a bit. These are a few of my favorites from 2014.
• The Good Lord Bird by James McBride. National Book Award winner and well deserved. One of the best voices ever.
• Whistling in the Dark by Lesley Kagen. Reading this book put me behind on my own writing schedule because I could not put it down.
• City of Thieves by David Benioff. World War II. The siege of Leningrad and the brutality of the Nazis. Finely drawn characters, gripping plot.
My new novel, What I Remember Most, is about a woman named Grenadine Scotch Wild. Yes, she's named after the syrup that goes into Shirley Temples and hard alcohol. As soon as I had that unique name in my head, I felt like I had the story … at least part of it.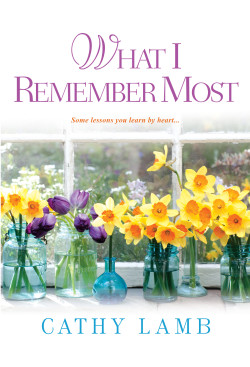 Grenadine, a collage artist and painter, is on the run. She has been on the run before, the first time when she was six. She remembers her panicked parents yelling, "Run, Grenadine, run!" on a foggy night in the mountains, but not much else.
Although her present-day story is told through her eyes, Grenadine's childhood, spent in foster care after that disastrous dark night, is told through Children's Services reports, police reports, report cards, letters, and a court transcript.
Grenadine was falsely accused of helping her new husband, an investor, steal and embezzle money. As she says, she can't even balance her checkbook, so how could she embezzle money? After a raucous stint in jail where she gets in a fist fight, she heads to the craggy mountains of central Oregon with $521, cash, and ends up living in her car for weeks, in winter. She eventually finds work as a bartender and as an assistant to a smokin'-hot ex — L.A. gang member/furniture maker with a huge heart and talented hands.
Living under the threat of serious time in the slammer, Grenadine builds a new life, finding an apartment to live in above a red barn, making new friends, one of whom she is willing to sacrifice her freedom for, and piecing together a past she can't remember.
And, oh yes. She falls crazy in love.
What I Remember Most is about memories, the old and the new, starting over, and daring to live.
Find out more at cathylamb.org.