The Language of Sisters, September 1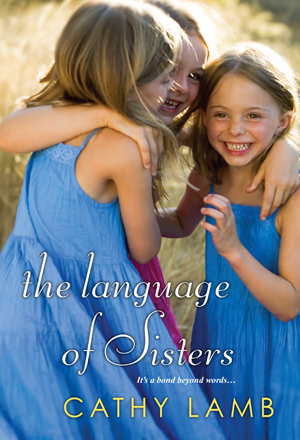 My new novel, The Language of Sisters, is out September 1, 2016. I PROMISE I will not hit you over the head with it from now until then as that can be so annoying.
But, a few clues about the story…
Toni Kozlovsky lives on a yellow tugboat in the Willamette River. She needed space to breathe.
2. Toni has two sisters. They can sometimes hear each other in their heads, a message coming through. It's odd, it's inexplicable. It's a gift handed down the Sabonis family line through their widow's peaks. Their mother had it, too.
3. The family immigrated from Russia when Toni was a little girl. They left a lot of secrets there…and the secrets have been running after them ever since.
4. The family has many crazy members and the dynamics can be mind blowing. You might relate to some of them.
5. Toni has something hidden in a little shed next to her tugboat.  She doesn't want to look at it. She doesn't want to think about it. But she does.
6. Love. Laughter. Funny stuff. A blue heron, a woman named Daisy, a DEA agent who lives down the dock, a restaurant, a scary man. Pillow making, skinny dipping, too much wine. More laughter.
I hope you like it, I truly do.
Available at all the usual book stores.
ISBN-10: 0758295081 | ISBN-978-0758295088
From Amazon:
Toni Kozlovsky can't explain how she knows exactly what her sisters are feeling—only that the connection seems to happen out of the blue, just when they need it most. Since Toni, Valerie, and Ellie were little girls growing up in Communist Russia, their parents have insisted it's simply further proof that the Kozlovskys are special and different.
Now a crime and justice reporter, Toni lives on a yellow tugboat on Oregon's Willamette River. As far as her parents are concerned, the pain of their old life and their dangerous escape should remain buried in the Moscow they left behind, as should the mysterious past of their adopted brother, Dmitry. But lately, Toni's talent for putting on a smile isn't enough to keep memories at bay.
Valerie, a prosecuting attorney, wages constant war against the wrongs she could do nothing about as a child. Youngest sister Ellie is engaged to marry an Italian, breaking her mother's heart in the process. Toni fears she's about to lose her home, while the hard edged DEA agent down the dock keeps trying to break through her reserve. Meanwhile, beneath the culture clashes and endearing quirks within her huge, noisy, loving family are deeper secrets that Toni has sworn to keep—even from the one person she longs to help most.
Available at all the usual book stores.
ISBN-10: 0758295103 | ISBN: 978-0758295101