Julia's Chocolates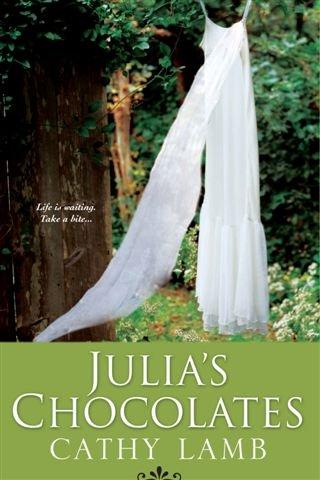 Julia Bennett is on the run.
First, however, she must rid herself of her fluffy wedding dress. Tossing it repeatedly into a dead looking tree on a dusty, lonely highway in North Dakota doesn't work.
The dress, with its over sized bodice, keeps tumbling back down on her head. She ends up laying face down in the dirt, tears streaking down her cheeks.
The only thing that makes her get up again is the vision of buzzards gnawing on her dead body.
After escaping an abusive fiancé at the last second, Julia heads to Oregon and her Aunt Lydia, the woman who offered her the only peace she had during a tumultuous, difficult childhood.
With giant ceramic pigs in her front yard who are all named after men she doesn't like, toilets filled with flowers, and a bridge on the lawn painted like a rainbow, Aunt Lydia welcomes Julia with open arms.
Aunt Lydia has painted her house pink, "Like a camellia. Like a vagina," and the door black, "to ward off evil spirits, disease, and seedy men."  With hundreds of chickens strutting about, Julia begins to find peace.
She is joined on her journey by Caroline Harper, a psychic who hears the screams of the world and has her own secret to hide; Lara Keene, a minister's wife who feels trapped in her too-narrow world and has to leave her home to find herself; and Katie Margolin, a mother of four who finally finds the courage to leave her alcoholic husband and provide a better life for her children and herself.
The women bare their souls during "Breast Power Psychic Night," "Getting To Know Your Vagina Psychic Night" and "Your Hormones and You. Taking Over, Taking Cover, Taking Charge," and find kindred spirits in each other and true friendship.
In a town struggling to survive and townspeople who are both caring and eccentric, Julia Bennett finds love, laughter, the power of chocolate and, finally, a place to call home.
Available at all the usual book stores.
ISBN-10: 0758255632 | ISBN-13: 978-0758255631