The Last Time I Was Me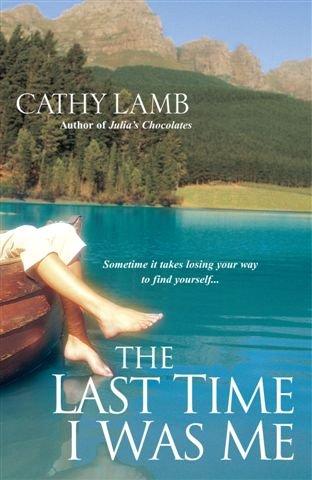 The Last Time I Was Me is about a woman named Jeanne Stewart who has just hit crisis point in her life.
Unfortunately, she has reached that crisis point in front of 834 advertising execs, calling them, "pointless" and "schmucks." She has also assaulted her cheating boyfriend in a creative and, some might say, humorous fashion, and is now facing both criminal and civil charges. She is grieving for her mother, still hiding from her past, and wondering if she should drive her new-old Bronco into the Pacific Ocean. When the moon is full and her truck packed with her high heel collection, her grandmother's teacups, a violin that brings her to tears, and her mother's china, she heads for Oregon.
In Oregon Jeanne enters a court-ordered Anger Management program, runs naked along a river, falls in love, buries a body, learns more than she ever wanted to about germs, re-builds a house, eats piles of pancakes for the first time in years, covers herself in peanut butter, flies like a bird, runs a gubernatorial campaign, reaches out to those in desperate need of help, and endures a court trial.
She's busy.
Hope you enjoy The Last Time I Was Me.  It might make you cry. Might make you laugh. So get your chocolates and bubble bath ready before you begin.
Available at all the usual book stores.
ISBN-10: 0758266685 | ISBN-13: 978-0758266682
Additional Q and A….
Questions on The Last Time I Was Me
1) What was your inspiration for The Last Time I Was Me?
I wanted to create a woman who was halfway off her rocker and zooming towards me all the way off her rocker.  I was also interested in creating a character who was making a major life change. Life changes intrigue me.  People who give up the money and prestige and slickness, so to speak, of money-making jobs, and then go and do something that they feel is worthwhile and meaningful intrigue me.
The problem with Jeanne Stewart is that she kept running off and doing her own thing without asking my permission first. She'd say wild things, be sarcastic, eviscerate someone, get in bar fights, help in criminal activity, participate in criminal activity, and run miles and miles. Now if I attempted to run miles and miles I would die. Or vomit. Or both.  But there she was, running.  I made her a runner because I secretly wish that I was a runner. You know, one of those people who run five miles a day and live for their mileage? Then I could eat whatever I wanted. But, I digress.
I created Jeanne, knew she was going to anger management, knew I would build characters around her who would cause her problems and heart aches and laughter and help her to develop into a person that would live and love and laugh again after such a tragedy in her past.
2) Are any of your characters real people in your life?
No. Not a one. They all leap from my untamed and untethered imagination and I go from there….
3) Do you always know how your book is going to end?
I have a pretty good idea of how my book are going to end. The problem is that I don't always know what's going to happen in the middle….things go upside down for me often depending on which character is taking over what scene.  This happens. I have many bossy, opinionated characters who get themselves into trouble and then I must go with what they're doing.
4)  When do you write?
Most everything I have ever written has been written between 10 at night and 2 in the morning….until the last few months. I dunno but staying up late, late, late at night all of the sudden hit me wrong. Perhaps it was too many years of not having sleep. Recently, so very recently, I started writing in the mornings. Now, I can only write in the morning if I'm not at an excercise class (Must exercise so I can imbibe in chocolate), or if my kids don't have to be someplace. However, the times I do write in the morning, and/or afternoon and actually have an evening off…now that's been a really nice change in my life. Always after dinner, I knew I had to "go to work." In the last few months after dinner I've been able to watch a show or hang more with the kids or walk. I've loved it. Not working nights has been great! Will it continue this way? Maybe. Maybe not.
5) Which character in The Last Time I Was Me do you most relate to?
Hmmmm….I relate to Jeanne's grief and her outspoken opinions. I relate to her desire to start over and start a new life.  Jeanne got fed up with the superficiality of her life and the superficiality of her relationships, and I "get" that.   Jeanne loves to shop, however, and I hate it.  She loves heels and fashion and that stuff bores me stiff.  I just cannot find it in me to worry much about clothes.  Surely I have something better to do?  Jeanne's very much a loner, too, and I am definitely a semi-loner. Love my friends, love to be alone, too. Jeanne's definitely isolated herself in her life, which is sad, and one thing I wanted to change about her.
6) What parts did you enjoy writing most?
One of the best parts of the book, for me, was the trial and how squished Slick Dick got in open court. Such fun to write about a man getting his comeuppance! Perhaps that's my vindictive side coming out. Also loved writing about the romance with her and the governor.   I also enjoyed writing about the anger management class. I think most of us need an anger management class in our lives at some point – or several points – so I enjoyed living in Emmaline Hallwyler's head for awhile and making people do crazy things.
7) How long did it take you to write The Last Time I Was Me?
Hmmm….good question. I would say it took seven month – ish to write and edit it…somewhere in there.  Time blurs for me, though. I can hardly remember what I did yesterday, must look at my calendar, so that is an approximate.  When I am writing a book I write 2000 words a day. If I don't hit 10,000 words by the end of the week, I don't let myself go to bed on Friday night.  I have had some very late Friday nights but, you see, I suffer from extreme laziness and would rather play than work. If I don't set goals for myself, nothing would get done. I wouldn't even get my name on the paper. So, I have set goals my entire life, especially with my writing, and I stick to that 10,000 word a week deal. Unless my arm is falling off, I always will. Well, even if my arm was falling off, I would probably write with my toes.
Editing is different, I try to edit until I really need to run to Starbucks or I can't see straight anymore.  Deadline time for me is very ugly. I am in pajamas until about three in the afternoon. I always try to get out of pajamas by the time my kids get home from school. I think it's  a bit unnerving for kids to see their mothers slopping around, their hair in an unruly mop atop their head, muttering to themselves, and talking to people who don't physically exist. So, I do try to be a good mother and not scare my children by showering before they walk back in the door.
Before I turn a book in about all I do is work. That is a little tricky this summer as my deadline for my next book is September 8. This means that August is going to get nasty. Not a good time as the little sweethearts are still home, but alas, 'tis the way it is.
8) Speaking of that book, what's next?
My next book is titled, Henry's Sisters. It's about three sisters and a brother. I have two sisters and a brother but, fear not, Jimmy, Cindy, and Karen, it is not about you three at all. Nada. Not even a smidgen, not a bit, not even a wee bit. Really. Now don't call me, you three, and leave scary messages….
Henry's Sisters takes place in Trillium River- a fictional town in Oregon, and it is about a bakery and jumbo cupcakes, braided hair and regrets, pie throwing and crime writing, and laughter, tears, and teaching kindergarteners.  Hope you all like it.