The Snow Child. Now just sit in that image for a second…
What a title, what a vision.  The. Snow. Child.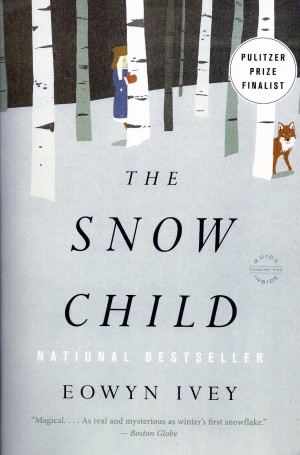 And, most importantly, what a book. I meant to read this book years ago when people were raving about it, and then…well, you know how it is.  (Kids. Work. Disasters. That sort of thing.)
I am so glad I did.  I loved it.  The Snow Child is magical and harsh at the same time, history and fantasy blended, and the sentences are so beautifully constructed it made me tear up.
I contacted the author, Eowyn Ivey, up in Alaska, and she said she would be delighted to talk with us about her book, and her life in Alaska, which is far different from mine, locked here in the Oregon suburbs with only a few coyotes running around.
Cathy Lamb: Eowyn, your book, The Snow Child, is set in Alaska. Can you please tell us where you live in Alaska, and what your life there is like? I hear you used to haul your own water and you hunt for moose.
Eowyn Ivey: My family and I live northeast of Anchorage in the Matanuska River valley. It's not as rugged or as remote as much of Alaska – we are on the road system and can drive to Anchorage – but it is rural by many people's standards.
We live on a dirt road, and until The Snow Child was published and we could afford a well, we used to haul our own water. We keep chickens and turkeys, grow a vegetable garden, hunt for moose and caribou, and harvest salmon and wild berries every year. Unlike my characters, Jack and Mabel, we can go to the grocery store whenever we need to, but like a lot of Alaskans we admire a certain amount of self-sufficiency.
You are now my outdoor idol.  I have just envisioned you on a caribou hunt, catching salmon, and ice skating on your homemade ice rink.  When can I visit?
One element I loved about The Snow Child was the mix of magical realism and historical reality. What made you decide to blend the two?
That was what really excited me about this idea from the beginning — the friction between a sort of ethereal fairy tale and the more grounded struggles of a homestead in Alaska. Fairy tales by nature leave out much of the details, and I wanted to fill those in with my own knowledge and love of this place. But I also didn't want the polished and romanticized ideas of Alaska. I wanted my characters to live and struggle in a very real landscape.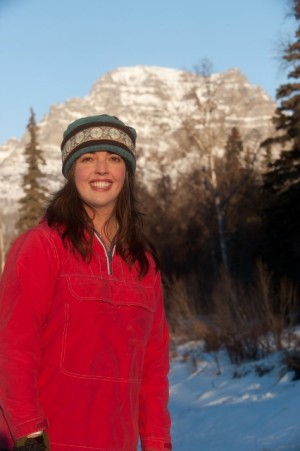 I felt that "real" landscape. You painted such a clear portrait it was like watching a movie. I loved learning about living in Alaska, in 1920, the dangerous weather and ragged landscape, and the sheer will and courage people had to have in order to survive.
What about those pioneers' lives stuck out to you most while doing your research for this book?
The truth is I didn't do a lot of research for the book – much of Jack and Mabel's lifestyle was drawn from my own life here. Both my husband and I grew up here, around gardening and farming and hunting.
However, I was interested in particular in the 1920s. Before, there was the Gold Rush, and later, in the 1930s, there was a government-sponsored effort to bring farmers to this part of Alaska. But people like Jack and Mable and the Bensons would have been driven purely by their own desire to live in Alaska. They would have needed brave and adventurous spirits.
What character did you most relate to and why? Was there a bit of you in each character? If so, what?
This is a great question, and I think maybe because you are a writer as well, you really nailed it – there is a bit of me in every character. I find this enables me to step into the minds of characters, even if they are very different than me. If I can find one trait that I can strongly relate to – Mabel's over-thinking, Jack's desire to get things done, Esther's ability to laugh and have fun – then I can more fully empathize with the character and they become more real to me.
I had to stop and think while reading the stunning, poignant language you used. Every sentence was so well crafted. For example, "It was beautiful, Mabel knew, but it was a beauty that ripped you open and scoured you clean so that you were left helpless and exposed, if you lived at all. She turned her back to the river and walked home."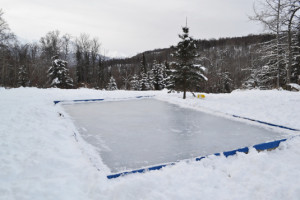 And, "Even as a boy Jack had loved the smell of the ground softening in the thaw and coming back to life. Not this spring. A damp, moldy dreariness, something like loneliness, had settled over the homestead."
So what's my question? I don't know, Eowyn, I just wanted to write these passages out for the readers so they could get a taste of your talent…moving right along here…
Thank you for that, Cathy. It's always strange to see my own words in print, but I'm so glad you enjoyed it.
How does living in Alaska help you to write? How much snow do you get? How long are your winters? What animals come and visit you at home?
For me, the quiet, off-the-beaten-path lifestyle we have here in Alaska is conducive to writing. I enjoy solitude and quiet, so it suits me well. And the long darkness of winter is a perfect time to spend reading and writing, although we also like to get outdoors to sled and ski and ice skate even on cold days.
In our area of Alaska, winter isn't exceptionally snowy or cold compared to some parts of the US (my grandparents live in Buffalo, NY) but it is long and it is dark. Winter for us usually starts by the end of October and lasts through March, even early April. In January, the sun rises around 10 a.m. and goes down about 3:30 p.m. And for about three weeks at our house, we lose direct daylight completely because the sun doesn't rise above the mountains. But it is nothing compared to places even farther north like Barrow!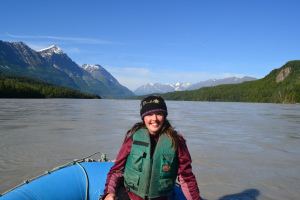 I definitely want to come and visit Alaska, but perhaps I will come when the sun is up all day…Speaking of days, take us through a usual day. What do you do? When do you write?
I struggle with the fact that the schedule is always changing. I get the most done when every day is boringly similar to the one before it. But life isn't often that way. We have two school-age daughters, so when they are home on breaks, I try to write early in the morning before they get up. But I'm not much of a morning person, so when they're in school, I write during the middle of the day. And then there are orthodontist appointment, school concerts, book events etc. It's a lesson to me to try to be flexible and to write whenever I can.
I am a mother, too, Eowyn, so I totally understand blending career and writing. It can be hard, especially when the kids are young.  Speaking of challenges, what is your greatest challenge as a writer?
I want to push myself to be more daring with my writing. Maybe because of my journalism background and my own personality, I can be kind of linear in my thinking, but I really admire writers who stretch the idea of what a story can be, of what a sentence can be. So that is my challenge to myself, to dare to try new things as a writer.
And your name? Can you tell us about it? It's rather prophetic, isn't it?
My mom named me after the character Eowyn in the Lord of the Rings. Of course this was long before the movies came out, so people never used to recognize it except die-hard Tolkien fans. The terrible confession I have to make is that I have never actually been able to make it through the books. I adore The Hobbit, but I find the Lord of the Rings overwhelming.
What's up next? What are your goals for 2015?
I'm working with my US and UK editors on my new novel, which I'm really excited about. It's set in 1885 and follows a military expedition into the heart of Alaska. Along the way, the men encounter mythological occurrences. I'm telling it through letters, journals and other documents, so I'm having a lot of fun with it. And my husband and I are finishing our library – at last I will have shelves for all my books that currently live in boxes.
Eowyn, you let me know when your new book is out and I will be the first to buy it. Thanks so much for chatting with me and if I ever get to Alaska to visit, lunch is on me, but the caribou hunt and salmon catching is on you. 
Visit with Eowyn here: