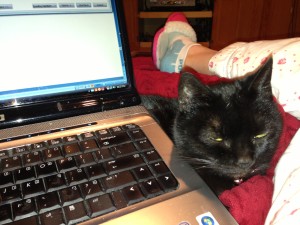 I always have a lot of "I Should's" going on in my life.
I should write more.
I should blog more.
I should write a thriller and scare myself to death.
I should eat more fruit, like a baboon, and less chocolate.
I should walk every day. (This has appeal. Then I can pretend I'm exercising when really I'm daydreaming like crazy.)
I should be a less temperamental wife.
I should lose weight off my butt.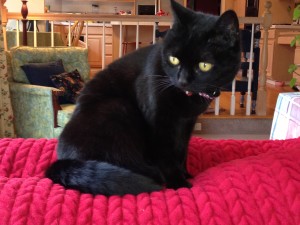 I should keep my mouth shut more often.
I should help save the planet.
On and on. Endless.
Then I watch my cat.
KC has no "I Shoulds" in her life that stress her out, spin her up, and make her eat ice cream out of a carton with a spoon.
Currently, as I write, she is sitting on my lap, sporadically trying to lick my face. I don't like cats licking my face, so I have to keep swinging my head back, again and again, like a bobble head. But still.
What KC likes to do is sit and relax. She likes to be in front of the fireplace. She likes to find a good place to nap before she finds a good place to sleep. She likes to sit on heaters and have warm air blown up her fur.
It's quite the life of splendor, I think.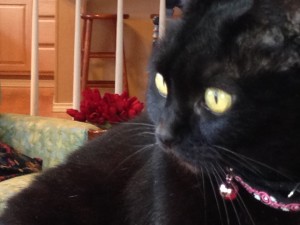 But what KC the cat loves the most is to be with our family, especially with the kids. When the kids were younger, and playing outside, she would hide under my old, rickety van and keep an eye on them. When they came in, she came in.
She will often sleep at the top of the stairs at night so she knows who's coming and going, if she's not sleeping in front of the kids' bedroom doors.
She runs to the door to greet us when we come in. She meows at us and expects us to meow back, promptly, like we're having a conversation.
She sits on our laps, lays on our chests. She's in love with my husband.
Her whole life then, is basic: Eat, sleep, nap on a warm  heater, hang out with the family and bring joy to their lives.
It's a nice life. Prioritized. Organized. Family first. And there are no "I shoulds," in it at all.
She's a heckuva cat.
I should figure out how to be a little more like KC in 2014.