When I was about eight, my parents took my sisters, my brother, and me on a six week camping trip in a tent.
Yes, I said six weeks.
No, my parents had not lost their ever lovin' minds. My father had a sabbatical, they were sick of the city, and they wanted out.
We all piled into our long black Ford. The Ford had an uncanny and somewhat creepy resemblance to a hearse, but we ignored that part.
We tossed in our dogs, Frisky and Alphy. Frisky bit people, Alphy bit dogs. They were both bad, odd dogs. The Ford, immediately, was in total chaos.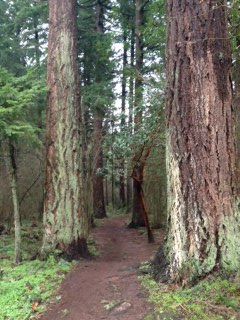 We left Huntington Beach, California and camped up and down California and Oregon in a big, sagging blue tent which we later learned was not waterproof, as advertised.
My mother got a scary case of hypothermia, all three of my siblings threw their guts up because they drank the lake water in Lake of the Woods, the dogs got sick in the middle of the night, and we constantly had to drop by local hospitals so I could get my regular allergy shots so I wouldn't start wheezing like a freight train.
A lantern dropped on my sister's head, and she had to be rushed to the hospital for a bunch of stitches. Two days later she fell head first into a pond and soaked the stitches. My father had to dive into a river in Jedediah Smith State Park to rescue my brother who would have drowned had my father not been so quick.
Alphy tried to get in fights with other dogs, and Frisky tried to bite people.
The chaos continued. We persevered.
The result? Overall, we had a fantastic time camping in that saggy blue tent. It was a pivotal moment in my life as I saw the value, and beauty, of nature.
We saw mountain ranges and beaches. Elk and raccoons. Campfires and bears. Sparkling lakes and rushing rivers. For city kids, it started a lifelong love of nature for all of us.
All we had to do was go and play outside.
(Click on the link for the full story….)
Thanks for hosting me on Writers In The Storm, Laura Drake!