I have the same Christmas tradition as a zillion other frazzled mothers out there: Make graham cracker and candy houses with your children every year. Even if they're on Santa's Naughty List.
But my kids, 19, 19, and 23, have, shall we say, different ideas of what constitutes an "appropriate" Christmas house nowadays.
When my kids were young they would carefully build their graham cracker houses, usually using a small milk carton as a base. They would use hot tamales to make sweet, curving pathways up to the front door. The roofs would be covered with white icing and red hots. Jelly beans would line the edges of the houses.
No longer.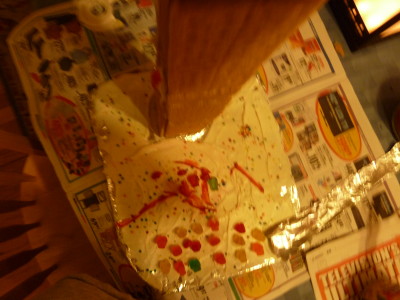 In my household, it now seems that the graham cracker Christmas house rule is, "The weirder the better." Or, "I'm going to make a personal political statement this season." Or, "Gummy bears rule. This is a gummy bear gang."
Our kids' Christmas houses sometimes, intentionally, resemble scary haunted houses. Or bunkers. Or arenas from Hunger Games. We have four story towers and coliseums for gladiators.
One year Darling Laughing Son made a gummy worm graveyard.
Adventurous Singing Daughter (Daughter Number 2) put cinnamon bears on top of her roof and had them jump off into a pool of gumdrops. Why? Because her bears were adventurers, like her. She later bungee jumped off a bridge. Maybe inspired by a cinnamon bear?
Rebel Dancing Daughter (Daughter Number 1) has feminist, woman – power tales attached to her graham cracker candy creations.
Yes, our Christmas graham cracker houses now have odd….flavors. But it's the same, too. We all sit around our kitchen table with glue guns, icing, sprinkles, Hershey's kisses, gumdrops, and mints and build and create.
It's Lamb family tradition, even when rainbow gummy fish have staged a revolution and taken over Graham Cracker Village.
Wishing you laughs, good cheer, and fun with friends and family this holiday season.