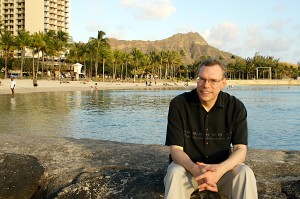 Alan, I loved Moloka'i and Honolulu and plan on reading Palisades Park soon.
Before I ask you about your terrific books, though, I'm hoping you can tell me, and the readers here, a little bit about yourself and your life.  Why writing?  When did you decide you wanted to be a writer?
I was born in New Jersey in 1954 and raised near the legendary amusement park I write about in Palisades Park.  My dad was a sheet metal operator for the Alcoa Company in Edgewater, my mom an apartment rentals manager, but under the byline H.E. Brennert my father also wrote nonfiction pieces for aviation magazines like Skyways and American Helicopter.  He was a good writer, with a clean, lucid style. 
The funny thing is, he'd stopped writing by the time I came along, so I had no awareness of him as a writer—yet that was what I wanted to be ever since I was ten years old and I banged out a synopsis of the animated special Dorothy's Return to Oz, which I'd seen the night before, on my toy typewriter.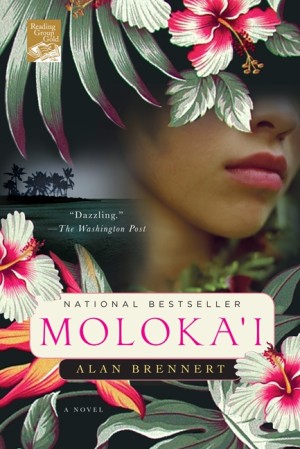 Obviously I received a genetic gift for writing from my dad, and since he had been a writer neither he nor my mother ever discouraged me—never said, "Oh, you can't make a living doing that"—and never failed to buy me whatever weird comic book or science fiction magazine I wanted to read.  I had great, supportive parents; a writer couldn't have asked for better ones.
At the moment I live in Los Angeles with my wife, Paulette, and our wonderful dog (though we have had five wonderful cats, too, in the past, all sadly gone now).
I'm sorry about your cats! I love our cat, KC, though she meows at me and expects me to meow back, which is odd. I will miss her when she's no longer here, too.  
But back to books…Was it a smooth road to publishing?
A little too smooth, maybe!  I sold my first short story to a science fiction anthology, Infinity Five, in the summer after my high school graduation (for the princely sum of $35 for a 1500-word short).  Not too bad a story in retrospect, but I can't say that about all those early efforts, though two of them ("Jamie's Smile" and "Queen of the Magic Kingdom") stand up well enough that I included them in my first collection, Her Pilgrim Soul and Other Stories.  Well, we all have our apprentice fiction and those were mine.
I moved to California in 1973, attending California State University at Long Beach, majoring in English as I wrote and sold more stories for sf magazines and anthologies—and then a typically meandering first novel, published as a paperback thriller, which was strong on energy but structure, not so much.
Later I attended UCLA Film School, which I confess I quit the minute I sold my first TV script.  For the next twenty years I wrote primarily for television and film, the high point of which was winning an Emmy Award as a writer-producer for L.A. Law, but I continued to write occasional short stories and novels, specifically character-centered fantasy novels like Kindred Spirits and Time and Chance.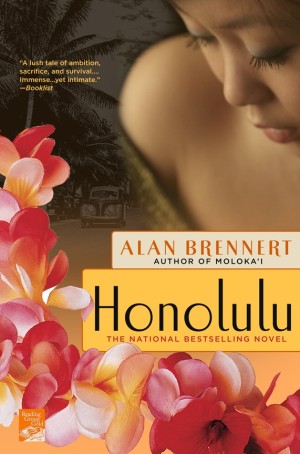 The novels got better the more I learned about structure from my screenwriting work, and provided a creative outlet for me when film and TV projects didn't get made or got made badly.
Tell the readers here about Moloka'i and Honolulu, two of my favorite books EVER. They both made me tear up and I don't do that very often with books. 
I love Hawai'i.  The first time I set foot there, twenty-four years ago, I felt as if I were coming home.  The place and the people have drawn me back year after year, and the history of the Hawaiian people is one that holds a special fascination for me.
I visited the island of Moloka'i for the first time in 1996, but it wasn't until three years later that I began reading about Kalaupapa, the leprosy settlement on the island's north shore, and how people—Native Hawaiians mostly—were taken away from their families, jobs, homes, and sent to this isolated peninsula on Moloka'i.
And when they had children at Kalaupapa, those children were taken away from them in a cruel reflection of what had happened to them (this was done to prevent the babies from coming down with the disease).  The more I read, the more I came to realize that here was a compelling, true-life story that had never fully been told before.
At the same time, I had just finished six months of work on a miniseries that NBC decided not to make in, like, six minutes.  So I decided to write the book that became Moloka'i. 
And Honolulu, about the immigrant experience in Hawai'i told through the eyes of a Korean "picture bride," grew out of the research I had done for Moloka'i.
Moloka'i and Honolulu were absolutely gripping. I loved the history, heart breaking though it often was. How long did each book take to write?
Moloka'i took three years: nine months of initial research before I could see 1890s Honolulu in my mind's eye, then a year to do a first draft, followed by multiple rewrites, first for myself, then for my editor.  Honolulu took two years of research and writing, often simultaneous.  There was so much research to do into so many subjects for both these books that I developed a process of initial research, then researching as I was writing, the research informing the writing.
How many times did you edit each book?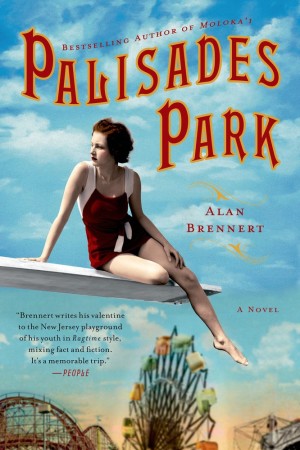 It's impossible to calculate. I do several passes at each chapter before I even show them to my wife (who complains that she never gets to read one of my books straight through, but in installments—but she's a professional editor and  her advice is invaluable to me).
I rewrite again after getting Paulette's notes, then after I finish the whole book I do both structural revisions and polishing of prose, and then it's off to my editor, Hope Dellon, whose notes are usually both extensive and invaluable.
And I can never resist making changes in the copy edited manuscript and the page proofs.  By the end the story has been honed into what I intended it to be before I started writing a word…and at the same time I'm so sick of it that I never want to read the damn book again!
Oh, I get it. By the time I've sent my proofs back to my editor I never want to read my books again, ever, and I don't. 
But tell me,  do you like researching or writing better?
Writing. But research can be fun, especially when you're doing it in Hawai'i.  The two weeks I spent in New Jersey for Palisades Park, revisiting my old homes and haunts, was also fun.
 The hardest part about being a writer is…
The roller coaster nature of the business, the ups and downs, feast or famine.  If you like a steady weekly paycheck this is not the business for you.
But the best part about being a writer is…
Getting to sleep in late (8 AM usually).  I had this planned since high school, when I had to get up at 6:30 every morning for classes.
What is a typical work day like for you?
Get up, feed the dog, feed myself, take care of email business and spend the rest of the morning doing research for what I will write that day.  Then a nice lunch at the Cheesecake Factory (my branch office!) and back by one to write.  I usually write from one to six or six-thirty—dinnertime—though sometimes I work after dinner too, either revising some troublesome prose or doing more research.
Three mornings a week I swim at my gym, and even there I'm plotting or revising what I'm working on in my head.  I tend to write seven days a week—I can't just go to the beach and turn off my mind, or tell the voices of the characters to shut up—and so I usually write until I have a rough draft of a chapter, then take a few days off.
It is hard to tune characters out, isn't it? I tried not working weekends for a while, that didn't work. Now I try not to work on Sundays. At least until after ten at night. Of course, when I have a deadline all bets are off and I work like a crazed fiend, so I understand working seven days a week. 
But I digress.
Alan, what would a perfect day look like for you?
Waking up in Hawai'i with Paulette, a breakfast of poi pancakes and Kona coffee, then taking a catamaran cruise along the coast with my wife and our friends James and Nancy Preston, who love Hawai'i as much as we do.  Maybe some snorkeling or body boarding, then dinner at Longhi's as we watch the sun set.  Notice that there is no writing in my perfect day!  That's for the imperfect days back in Los Angeles.
That day in Hawaii sounds more than perfect. I think I need to get on a plane…
Thank you for the interview, Alan. I'm looking forward to your future books.
I would highly recommend them to everyone.
For more information:
http://www.alanbrennert.com/